Return to Stillness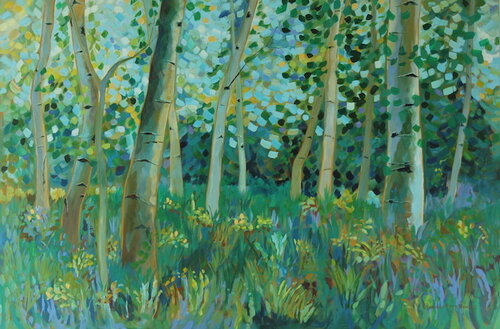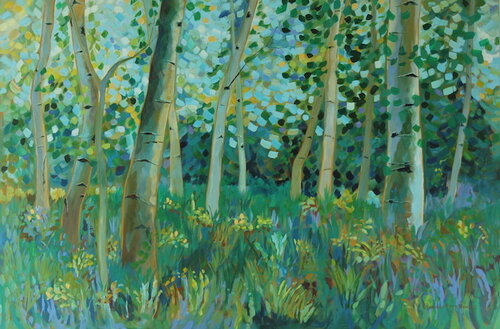 Return to Stillness
(c) Bronwen Mayer Henry 60" x 40" (Acrylic on Canvas)
Sides Painted—ready to hang.
Payment Plans Accepted
Free Shipping (Rolled in Tube) in Continental US.
Aspens call me back. I created this painting while life swirled around me. I purposeful stepped away from the todo list shouting my name and stepped into stillness. I painted this aspen grove out of a radical act of kindness.
This piece is about showing up to beauty and creative practice. Despite anxiety and despite deadlines.
.
This painting is a commitment to kindness. It is about moving in my life from joy not overwhelm. Trusting I can get more done with less time, if the time is centered, joyful, hopeful.
This is trusting that getting centered in love and joy is more powerful, useful and impact place to move from.
Whenever I feel disoriented, overwhelmed, confused, coming to the canvas helps me to slow down enough to listen, to stand still, to find my center, to be found. I love this poem by David Wagner, that echoes this sense of slowing down and immersion in nature.
David Wagner Poem, "When Lost in the Forest"
Stand still.
The trees ahead and bushes beside you
Are not lost.
Wherever you are is called Here,
And you must treat it as a powerful stranger,
Must ask permission to know it and be known.
The forest breathes.
Listen.
It answers,
I have made this place around you.
If you leave it,
you may come back again,
Saying...
"Here."
No two trees are the same to Raven.
No two branches are the same to Wren.
If what a tree or a bush does is lost on you,
You are surely lost.
Stand still.
The forest knows where you are.
You must let it find you.